KnowledgeScan can reduce the traditional costs of Target Safety Assessment development by up to 50%.
An informatics-based service for investigating safety concerns in drug development, KnowledgeScan™ concentrates the highest-quality information from the public domain, or your own studies, to address unexpected safety concerns that arise during drug development. Whether you have already encountered a toxicity issue, or you have a molecule or therapeutic target that you would like to profile before entering preclinical development, KnowledgeScan can help you make decisions in light of the most comprehensive intelligence available.
By outsourcing all, or augmenting some of your TSA projects to Instem, you are able to conduct more evaluations without increasing resources or costs.
Driven by leading-edge technology, Instem's KnowledgeScan TSA service offers consistent, systematic and efficient processes that produce high quality reliable results.
Key Features of the KnowledgeScan Solution
Collaborative – we specify the enquiry together, so the investigation is perfectly aligned with your needs.
Transparent workflow: well-defined protocol, systematic, unbiased and comprehensive. We report the facts, in a tangible, structured output, tailored to your requirements.
Specialist Information Scientists & Experts – the people conducting your investigation have experience and significant, relevant, domain knowledge. We also collaborate with industry experts: chemists, toxicologists, geneticists, pharmacologists and pathologists.
Focused: we'll address your specific issue and report the relevant information.
Concealed intelligence revealed: we remodel the raw information from different data feeds to enable a much deeper, more "forensic" analysis for maximum insight.
Validated – rigorous quality control and data accuracy are paramount to us.
Confidential & Secure. Always.
By turning to Instem's KnowledgeScan TSA service, you will:
Improve quality
Reduce costs
Get faster results
Minimize risk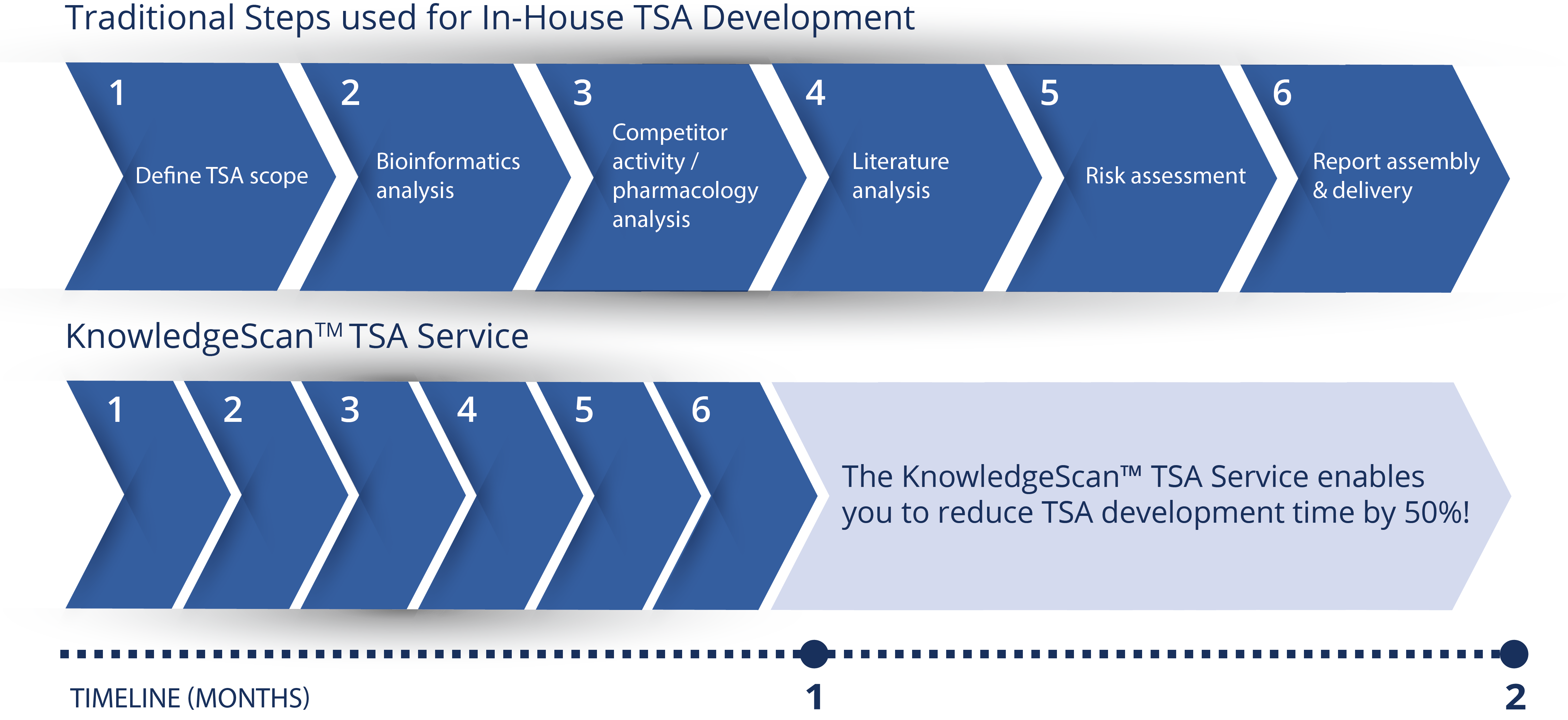 Discovery and Investigative Toxicologists are now able to decrease time and costs by up to 50% from traditional methods that are being used for determining the potential adverse consequences of modifying novel targets and biological pathways
Our comprehensive activities include:
Synonym expansion
Corpus creation
Automated data collection
Life scientist curation & data review
Expert Toxicologist review & interpretation
Report assembly
Review
Delivery to client
"We are always impressed with how they can work their technology and reveal new insight that extends beyond what we could do manually"

Dr Karen Maubach, BTG
Optional Services that Deliver Even More Value:
Evergreen
Most of the drug targets that are the object of a KnowledgeScan TSA are the focus of continuing research. Information will continue to be published and your assessment will become outdated when new information is available.
The Evergreen option by Instem ensures that new information is flagged and considered through the delivery of updated reports. The target is revaluated up to four times a year.
Risk Mitigation Plus
Let Instem's qualified expert Toxicologists deliver an independent opinion on how the identified risks could be mitigated, such as those detailed in your KnowledgeScan report.